Friday, February 10th, 2012
Recent Comments
• ,
Yes! Christmas is less than a month away.As i can see people...
• Julie Blackwell
Today, St. Patrick school mourns the loss of a beloved teach...
• Thanks
I have a high regard for writer like you for you create art...
Danica Patrick to Race at the Kansas Speedway in October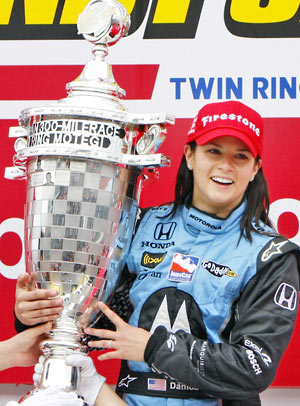 The hugely popular Hollywood Casino 400 NASCAR Sprint Cup Series race will have Danica Patrick racing in it this year. Having decided to take full-time part in the NASCAR Nationwide Series, Danica has chosen to use this race to end her 10-race schedule in the Sprint Cup Series.
Scheduled for Oct. 21, this race on the newly paved Kansas Speedway in Kansas City is going to be followed by racing aficionados everywhere. Incidentally, Patrick will also be competing in the Kansas Lottery 300 Nationwide race on Oct. 20 at the same venue.
Danica Patrick
will be driving a car that will be a joint effort of the teams that she will be associated with. She currently drives for Stewart-Haas Racing, which is the owner of her Nationwide ride. On the other hand her Sprint Cup car is owned by Tommy Baldwin Racing. The two companies have collaborated on a No. 10 Chevrolet for Patrick to drive on this venue. The fact that the Kansas Speedway offers an additional day of practice is a very important factor in taking this decision. According to Patrick's race strategist Greg Zipadelli, this is the best place for her to get practice in preparation for the 2013 racing schedule. This racing track has 1.5-mile ovals that will ensure that Patrick gets adequate practice in a schedule that is already packed. It has to be noted that testing the car with Patrick won't be possible on tracks where the three main series of NASCAR compete. This is not the first time that Danica will get to burn rubber on the Kansas Speedway. In fact, she has had quite a good run here over the years. This venue was where she first won in an IndyCar Series, in the year 2005. In fact, she has done reasonably well in the IndyCar Series at this venue, with three qualifications of third position or better out of six starts. She has also managed to finish in the top 10 positions on three occasions at the Kansas Speedway. Patrick has a very busy schedule with the Sprint Cup this year, which started in February with the Daytona 500. She will also be racing at Bristol Aug. 25, Atlanta Sept. 2, Chicago Sept. 16, Dover Sept. 30, Texas Nov. 4 and Phoenix Nov. 11 in addition to the race in Kansas. Patrick herself is looking forward to race at the Kansas Speedway. "I've always liked racing at Kansas Speedway," Patrick said. "I think the extra day of testing will be very beneficial, not only to prepare for the race weekend but to learn for the rest of 2012 and looking ahead to 2013 with Stewart-Haas Racing." The newly paved Kansas Speedway is definitely a track to race on. This 1.5 mile tri-oval race track has made quite an impact since its inauguration in 2001. It used to host the IndyCar Series until last year. At present, the Speedway is the venue for two NASCAR race weekends every year. Owned and managed by the International Speedway Corporation, this track has plenty of other attractions. The Penn National Gaming Hollywood Hotel and Casino, built just at turn 2 of the race track, is a wonderful year-round tourist attraction. This recently opened place has all sorts of attractions including restaurants and entertainment options including a truly fancy casino. The gaming floor measures 100,000 square feet and it has 2,300 slot machines, 61 table games and 25 poker tables. It is not hard to see why the Kansas Speedway and its adjoining attractions will be immensely popular with tourists. It is definitely going to be packed this October when Danica Patrick and others compete for pole position.